Ransomware is a rampant problem. How can businesses protect against the threat of ransomware?
What is Ransomware
Ransomware is nothing all that new. It's been around for a while and you've probably heard about it in some shape or form.
For the sake of clarity in case you're unfamiliar with the term – Ransomware is a form of cyber crime where an individual computer, server, or network, is held hostage.  Usually, it comes as the result of clicking on the wrong link from an email, downloading the wrong file, or unknowingly installing a virus on your system.
When the virus is installed on your computer, a window will open on your screen letting you know you've been hacked. It will also come with instructions for how to release your system from someone else's control.  Getting control back of your system typically requires a payment in form of cryptocurrency.
The kicker is that you're often given excellent customer service to help you make the payment. There's almost always a phone number to call for help with making payment.
The Rise of Ransomware
Ransomware has been around for a while, but the problem has been growing recently.  There are a few reasons for this and I'll highlight some of the major ones.
Ransomware as a Service
This mirrors a popular business model: the subscription service.  You pay a monthly subscription fee to gain regular access to a product or service.  There now exists a service on the dark web where anyone can subscribe to a Ransomware as a Service program.  An amateur hacker can purchase the use of an expect hacker's program and use it to hack your systems. The ease of access this grants a wider range of people has led to a surge in the amount of ransomware attacks.
Improvement in Phishing Emails
As the general public becomes more aware of the methods cyber criminals use to access our systems, those methods have evolved and improved.  Phishing emails are much better at appearing to come from someone you know or a company you trust.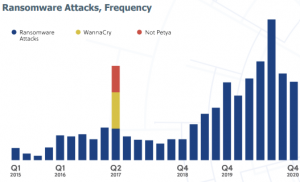 The increase in the number of ransomware attacks (see above) has created a real problem for businessowners without the right protections in place. If a ransomware window appeared right now on your screen – would you pay $30,000 in bitcoin or risk loosing all your client data?
Who would you call to resolve your problem?
How much revenue would you lose?
How would you get your business back up and running?
Preparing for Ransomware
There are two fronts where you can fight ransomware.
On the front end, you can put the right protections in place and train your employees. Best practices would include engaging with a cyber security firm to do a full assessment on your network, systems, processes, and practices along with regular ongoing training for your employees.
If this sounds expensive, you wouldn't be wrong.  An alternative to getting started would be a Cyber Risk Assessment.  We partner with Cyber Insurance Companies and can run these for you at no charge.  To request a Cyber Risk Assessment, please email contact@stillwellriskpartners.com with the Subject Line "Cyber Risk Assessment" and send us your website address.
On the back end, it's important to have a few things, starting with the right insurance coverage.  The right coverage comes in the form of a stand-alone Cyber Insurance Policy from a company that specializes in Cyber Insurance. Technology companies can often combine Cyber Insurance with your Errors & Omissions coverage.
Up front protections will never be 100% effective so having the insurance coverage to take the financial hit for you is essential.
But insurance is only part of the solution. Business Continuity Plans are often needed to help get you back up and running quickly.
Next Steps
One of the tools we use is a Cyber Risk Exposure Scorecard.  This can provide some insights into where you may or may not have the right protection.  You can download that scorecard here: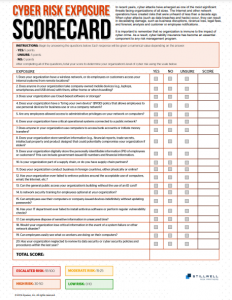 We offer a free initial consultation to simply discuss your concerns and answer your questions.  You can book time with one of our Risk Advisors here.